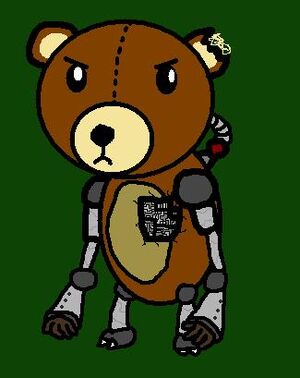 Dru (Deadly Robotic Ursidae) the Tedi is an outcast Tedi first seen in the Coal Mine chapter of Conker: Rise of Kulas. He is a brown teddy bear in appearance of his head and body, however, due to his creator not finishing him, he has robotic arms and legs. Dru's abilities vary depending on his strength in terms of energy. With high energy, Dru can basically do anything someone would consider "super powerful", such as lifting heavy things, however if he is weak, he can overheat his mechanical structure. Dru was defeated by Conker by being sliced up with the use of Conker's Ionic Sword in the Cold War chapter.
Ad blocker interference detected!
Wikia is a free-to-use site that makes money from advertising. We have a modified experience for viewers using ad blockers

Wikia is not accessible if you've made further modifications. Remove the custom ad blocker rule(s) and the page will load as expected.